Awen
The Breath of Awen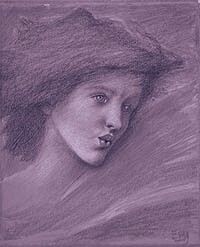 Welsh bardic literature refers to the "cauldron of inspiration" which contains a mysterious substance called Awen, the Welsh equivalent of imbas. Awen literally means "flowing spirit" and is bestowed only by the generosity of Ceridwen, the poets' muse and mistress of the cauldron. An early poem by a Welsh bard describes his experience of Awen when he taps into its powerful force:
" The  Awen I sing,
From the deep I bring it,
A river while it flows,
I know its extent;
I know when it disappears;
I know when it fills;
I know when it overflows;
I know when it shrinks;
I know what base
There is beneath the sea."

Here the source of Awen is in the depths of the sea, a traditional location for the Celtic Otherworld. But it emerges also from the depths of the poet himself, who may have drunk the "intoxicating mead" of the druids. The flowing drink from cauldron or cup sets into motion the flowing spirit from deep within.

Awen ... is the energy of divine inspiration, the flow of spirit, the essence of life in motion. It is the exquisite power of sacred relationship, the power that floods through the body and soul when spirit touches spirit, life is acknowledged, a moment's experience shared, divine energy exchanged. Awen is the focus of the deep inner quest; it is what we all seek as we stumble through life, that which brings us wisdom, clarity, freedom, ecstasy, the joy of being alive, simply being, peaceful, presence. It is fire in the head, poetic frenzy, lust for breath, complete purpose in perfect serenity.
Inspiration

The roots of the word inspiration speak of breathing 'life' itself into something; as in myth many references are made to the divine blowing life into clay. For us to write, compose, dance or create anything artistically we seek to imbue that creation with a 'life' of its own. To give breath and soul to our creation we appeal to the goddess that She might favor us with the ability to infuse 'life' into our creation. (combined research ~ From the Branch 2005)